Expectations and Resources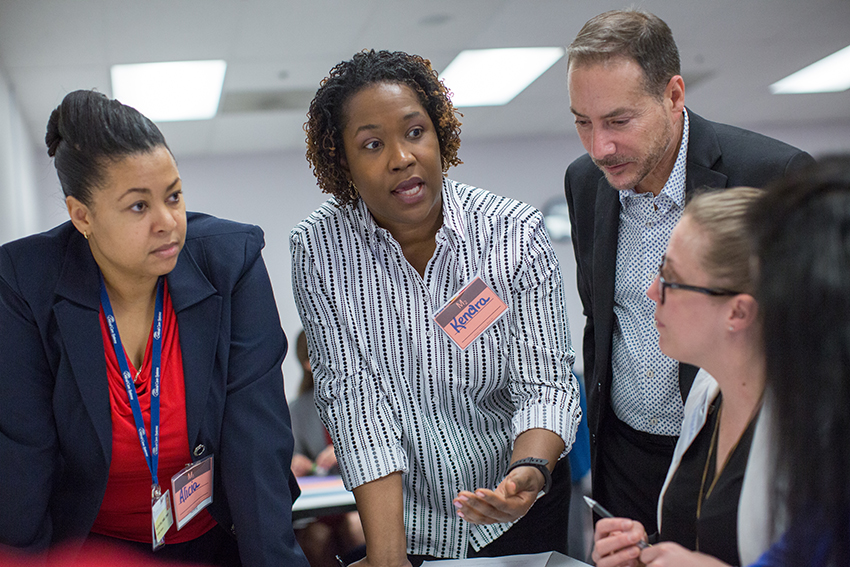 Program Expectations
If accepted as an NLI Fellow, you are required to:
familiarize yourself with the Leadership Development Program webpages
attend all Leadership Development Program activities
read the monthly email updates and accompanying literature
complete a leadership collaboration activity (information below)
write a summary report (information below)
complete all evaluations.
Failure to comply with these requirements may result in withdrawal from the program. Note that no partial Continuing Education Credit will be awarded.
Download: Overview of NLI Fellow Year

---
Further Information and Resources
Leadership Collaboration Activity
NLI Fellows are seen as the future leaders who will collaborate on and coordinate efforts to improve health care delivery in Maryland. This leadership collaboration provides a rich learning experience in which Fellows translate their new knowledge and skills into action.
Fellows self-select into collaboration pairs comprised of one person from an academic setting and the other from a practice setting. On occasion, Fellows have formed groups of up to four that maintain a mix of academic and clinical practice roles. These pairs and groups typically develop around a shared interest in a professional – health care issue.
This collaborative work addresses a specific issue and is best served when fellows align the activity with a need within their organizations. This may include issues within Maryland nursing education, practice, research, and/or policy. For example, previous collaborations focused on improving diversity in nursing education, establishing formal post-preceptorship mentoring programs for graduate nurses.
Collaboration activities may also extend to challenges within health care delivery and population health improvement such as initiatives on developing child abuse awareness within communities. Further, collaborative teams may also draw on others outside the cohort—and outside the nursing field—to join in the initiative.
Lastly, NLI Fellows will present a poster of their leadership collaboration activity at the end-of-year celebration held in August.
See previous NLI Fellow projects (scroll down to previous cohorts)
At the completion of the yearlong program, fellows submit a summary report on their experience, including reflective comments from their mentor.
The 2-3 page report should include:
1. The initial goals you identified in your NLI application.
2. Reflections on:
How NLI activities facilitated:

achievement or adjustments of these goals
development of your leadership style and skills.

What it meant to have a mentor during this program.
3. Finally, tell us what you'd like to do next.
Continuing Nursing Education (CNE) Contact Hours
Nurses can receive between 34-40 contact hours upon successful completion of this educational activity. Successful completion of this activity for Continuing Nursing Education (CNE) is demonstrated by attending the entire program, completing the online CE evaluation surveys, and filling out the verification of attendance form provided on site. Partial credit will not be provided. Participants will receive a CNE certificate via email from the University of Maryland School of Nursing approximately two to four weeks after submitting the required documentation. All requests must be received within 30 days of program completion.
The University of Maryland School of Nursing is accredited as a provider of continuing nursing education by the American Nurses Credentialing Center's Commission on Accreditation.
2018
NLI Orientation
Sept. 7, 2018
Presentations on major forces affecting Maryland healthcare by Patrick Dooley, VP and executive director, University of Maryland Medical Center; Margaret Hammersla, senior director of the DNP Program, University of Maryland School of Nursing; and Yolanda Ogbolu, director of Office of Global Health, University of Maryland School of Nursing.
Back Porch Chat on Leadership
Aug. 1, 2018
Jane Kirschling, dean and professor at the University of Maryland School of Nursing; Elizabeth "Betsy: Niemyer, chief program officer for United Healthcare, Military and Veterans; and, Sherry Perkins, president and chief executive officer UM Capital Region Health discuss their leadership.
---
2017
2017 Fireside Chat on Leadership
Aug. 1, 2017
Kathryn Lothschuetz Montgomery, PhD, RN, NEA-BC, co-director of the Nurse Leadership Institute, served as moderator for a Fireside Chat during the NLI Final Session and Recognition Ceremony. UMSON Dean Jane M. Kirschling, PhD, RN, FAAN, was joined by Mohan Suntha, MD, MBA, president and CEO of the University of Maryland Medical Center and Katie Boston-Leary, MBA, MHA, CNOR, NEA-BC, senior vice president of patient care services and chief nursing officer at Union Hospital of Cecil County, and president of the Maryland Organization of Nurse Executives.
---
2016
2016 Fireside Chat on Leadership
Aug. 2, 2016
A discussion with Jane Kirschling, dean, University of Maryland School of Nursing; John Sackett, president, Shady Grove Hospital, and executive vice president and COO, Adventist HealthCare; and Karen McQuillan, clinical nurse specialist, University of Maryland Medical Center.
Recognition Ceremony for NLI Fellows
Aug. 2, 2016
An awards ceremony upon completion of the 2015-16 Nurse Leadership Institute Leadership Development Program.