Preconference: Health Information Exchange: Practical Overview and Implications for Patient Care
Tuesday, July 16, 2019
8:30 a.m.-12:30 p.m.
Target Audience:
Practicing health and clinical informaticians, clinicians, and other health care professionals who are using or interested in learning about Health Information Exchange (HIE) for data transmission and retrieval.
Description:
We are in a new era of care that affects both providers and patients. Delivery of care is no longer driven by the fee-for-service model and is instead moving toward value-based care. Exchange of health data and interoperability of health information systems has become an expectation. To ensure health care quality standards and reimbursement requirements are met, leaders in the health care industry and health/nursing informaticians must be able to leverage available data and robust tools from HIE, which most states have implemented.
This half-day workshop will provide attendees with a practical overview of HIE and interoperability and its impact on clinical care and reimbursement. It will also demonstrate how HIE is being used in both clinical and health care informatics settings using an example regional health exchange service called the Chesapeake Regional Information System for our Patients (CRISP). The workshop will include didactic lectures, hands-on demonstrations, and group activities.
Presenters:
Facilitator
Eun-Shim Nahm, PhD, RN, FAAN
Professor and Director, Nursing Informatics
University of Maryland School of Nursing
Expert Speakers
Anna E. Schoenbaum, DNP, RN
Director, Enterprise Clinical Applications
University of Maryland Medical System
Craig Behm, MBA
Executive Director
Chesapeake Regional Information System for our Patients (CRISP)
Continuing Education:
Participants may receive 3.75 contact hours upon successful completion of this educational activity. Successful completion of this activity for Continuing Nursing Education (CNE) is demonstrated by attending the entire activity, completion of the online CE evaluation survey, and completion of the verification of attendance form provided on site. Partial credit is not provided. Participants receive a CNE certificate via email from the University of Maryland School of Nursing approximately two to four weeks after submitting their request and the required documentation.
No conflict of interest with a commercial interest was disclosed by any of the planners, faculty members, or speakers for this program.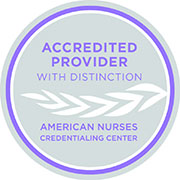 The University of Maryland School of Nursing is accredited as a provider of continuing nursing education by the American Nurses Credentialing Center's Commission on Accreditation.