Suzanne Sherwood, MS, RN
You are here: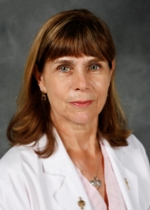 Assistant Professor, OSAH
Address: 368
Phone Number: 410-706-6008
Fax Number: 410-706-0344
Ssherwood@son.umaryland.edu
‌Education
MS, Trauma Critical Care, Clinical Nurse Specialist, University of Maryland, Baltimore, 1993
BSN, University of Maryland, Baltimore, 1987
Recent Publications
Smith LG., Sherwood SF., Care of Special Groups: The Bariatric patient. In: Nutbeam T, Boylan M, (eds). ABC of Prehospital Emergency Medicine. Oxford, UK: Wiley and Sons Ltd, 2013.
Sherwood, SF., Bauman, M., & Shephard, A. (2012) Pulmonary considerations and management of the morbidly obese patient. Bariatric Nursing and Surgical Patient Care, 7(4), 160-168.
Sherwood, S.F., Smith L., & Johnson, K.L. (2009). Emergency management of obese patients with blunt trauma. Bariatric Nursing and Surgical Patient Care, 4(4), 287-293.
Sherwood SF. & McQuillan K. Maxillofacial Trauma. In: McQuillan K, Makic MB, Whalen K (eds). Trauma Nursing from Resuscitation through Rehabilitation. Philadelphia: Saunders, 2009
Primary Teaching Areas
NURS 330 and NURS 514: Adult Health Nursing (Course Director)
NURS 487: Clinical Practicum and Integration
NURS 418: Introduction to Emergency and Trauma Nursing
Academic & Professional Activities