Chris Ward, PhD
You are here: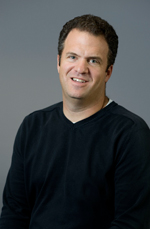 Associate Professor, OSAH
University of Maryland School of Medicine
Department of Orthopedics
100 Penn Street, Room 515C
Baltimore, MD 21201
Phone Number: 410-706-2820
Ward@son.umaryland.edu
Education
BS – Virginia Polytechnic Institute and State University
MS – Virginia Polytechnic Institute and State University
PhD - Virginia Maryland Regional College of Veterinary Medicine
Research
Cellular determinants of functional performance in striated muscle
Calcium signaling in striated muscle
Recent Publications
Ward CW, WJ Lederer, "Ghost Sparks" Nature Cell Biology (News and Views), (7) 457-459, May 2005.
Ward CW, JH Williams, and WG Kerrick, "Fiber Type Differences in the Ca2+ Activation of Force and Actomyosin ATPase Activity", Basic and Applied Myology, (14) 285-290, 2004.
Ward CW ,W Feng, J. C Tu, IN Pessah, PK Worley, and MF Schneider, "Homer protein increases activation of Ca2+ sparks in permeablized skeletal muscle", J. Biol. Chem., 279(7):5781-5787, Feb 13th 2004.
Ward CW, S. Reiken, A.R. Marks, I. Marty, G. Vassort and A. Lacampagne (2003) "Defects in ryanodine receptor calcium release in skeletal muscle from post-myocardial infarcted rats"FASEB J. 10.1096/fj.02-1083, online June 3, 2003.
Reiken S, Lacampagne A, Zhou H, Kherani A, Lehnart SE, Ward CW, Huang F, Gaburjakova M, Gaburjakova J, Rosemblit N, Warren MS, He KL, Yi GH, Wang J, Burkhoff D, Vassort G, Marks AR. "PKA phosphorylation activates the calcium release channel"
Chun, LG CW Ward MF Schneider, "Ca2+ sparks are initiated by Ca2+ entry in embryonic mouse skeletal muscle and decrease in frequency postnatally", Am J Physiol Cell Physiol (285), C686-C697, Sept, 2003.
Schneider MF & CW Ward "Initiation and termination of calcium sparks in skeletal muscle"Frontiers in Biosciences Vol. 7: d1212-1222, May 1, 2002.