About Debra Spunt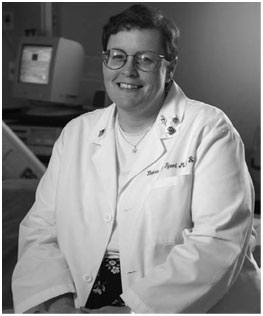 The Debra L. Spunt Clinical Simulation Labs at the University of Maryland School of Nursing (UMSON) are named for Debra L. Spunt, DNP, RN, FAAN, an assistant professor and director of the UMSON clinical simulation labs, who died of cancer at age 50.
A pioneer in clinical simulation in nursing, Dr. Spunt helped establish UMSON's 24 clinical simulation labs, which now serve as national and international models for student learning. Her expertise for integrating the use of clinical simulation into the educational curriculum garnered worldwide recognition for both Dr. Spunt and the labs. UMSON was twice named a Center of Excellence in Simulation Education by Laerdal Medical, an international manufacturer of interactive computer and patient simulators for educating health care professionals.
As an innovator in simulation learning, Dr. Spunt participated in the landmark 2003 National League for Nursing/Laerdal study, Designing and Implementing Models for the Innovative Use of Simulation to Teach Nursing Care of Ill Adults and Children: A National, Multi-Site, Multi-Method Study. She was co-founder of the International Nursing Association for Clinical Simulation and served as its first president. She received many honors and awards throughout her life, including induction as a fellow in the American Academy of Nursing.