About Dean Kirschling
Jane M. Kirschling, PhD, RN, FAAN
Dean and Professor‌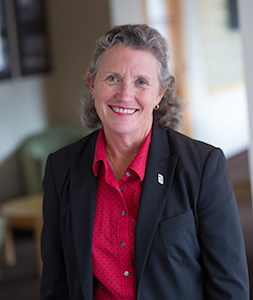 Dr. Jane M. Kirschling was appointed dean of the University of Maryland School of Nursing (UMSON) and director of interprofessional education at the University of Maryland, Baltimore in January 2013. She previously held administrative and faculty positions at the University of Kentucky, University of Southern Maine, University of Rochester, and Oregon Health & Science University.
Dean Kirschling's clinical expertise is in mental health nursing with a focus on end-of-life care. Early in her career, Dean Kirschling's research centered on assisting families through the process of providing care for a terminally ill loved one and through the grieving process after death. For more than a decade, she has focused on workforce development.
At the national level, Dean Kirschling served on the American Association of Colleges of Nursing (AACN) Board of Directors from 2004-14, including serving as president from 2012-14. She founded the Kentucky Nursing Capacity Consortium and co-convened Kentucky's Action Coalition to implement the Institute of Medicine's (IOM) recommendations from its 2010 report on the Future of Nursing. Dean Kirschling currently serves as co-convener of the Maryland Action Coalition, which is implementing the IOM recommendations in Maryland.
While at the University of Kentucky, Dean Kirschling served on the Board of Directors of the Center for Interprofessional HealthCare Education, Research and Practice. Along with AACN past President Dr. Kathleen Long from the University of Florida, she represented AACN on the Expert Panel that developed the Core Competencies for Interprofessional Collaborative Practice, sponsored by the Interprofessional Education Collaborative.
Throughout her career, Dean Kirschling has received numerous awards for her accomplishments, including the Beth Wessinger Award from the Oregon Hospice Association in 1995, the Organization of Maine Nurse Executives Leadership Achievement Award in 2003, the Agnes E. Flaherty Leadership Award from the American Nurses Association-Maine in 2006, and the Hospice and Palliative Nurses Association's Leading the Way Award in 2013. Dean Kirschling was co-recipient of the Kentucky Nurses Association's Nurse of the Year Award in 2010 and received the Kentucky Nurse Practitioner Advocate of the Year in 2011. She is an alumna of Leadership Maryland (2015), the AACN-Wharton Executive Leadership Fellows Program (2013), and the Robert Wood Johnson Foundation Nurse Executive Fellows Program (2000-03). She was inducted as a Fellow in the American Academy of Nursing in 2009.
Dean Kirschling received her Bachelor of Science in Nursing degree from Viterbo College in LaCrosse, Wisconsin, and her Master of Science in Nursing and PhD degrees from the Indiana University School of Nursing.